Solve business problems with blockchain technology
At Fabrity, we design and build blockchain business applications based on Hyperledger Fabric, an open-source enterprise-grade distributed ledger technology (DLT) platform that allows companies to build private blockchain networks, central and private channels, as well as private (encrypted) data storage.
We help our clients to choose the blockchain adoption strategy that will be viable both from a technical and a business point of view. Our blockchain experts look beyond the hype, building real business value on blockchain technology.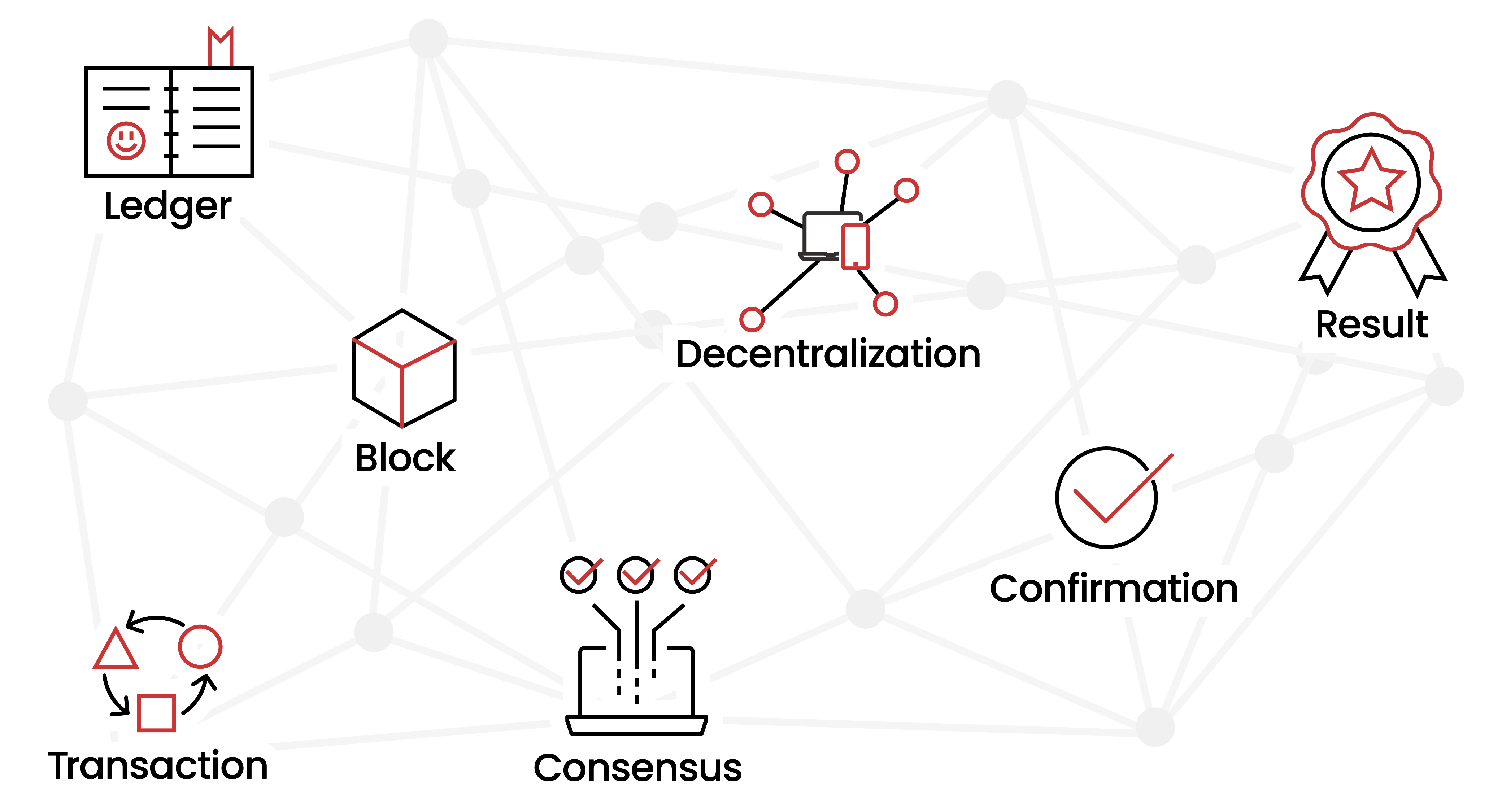 Over 50 corporate clients have benefited from our solutions. We focus on long-term relationships: 90% of our clients have been working with us for more than five years.
Over 50 corporate clients have benefited from our solutions. We focus on long-term relationships: 90% of our clients have been working with us for more than five years.
Blockchain technology, contrary to the popular belief, is not just about cryptocurrency. Thanks to features like security, non-repudiation, immutability, and performance, it can be applied to solve many business challenges. The distributed ledger technology (DLT), where all the data is stored in the blockchain network, fosters decentralization and collaboration as it closely resembles the way companies exchange goods and services in the real world.
Private and permissioned blockchains like Hyperledger Fabric make it possible to build enterprise-grade solutions whose business logic is based on smart contracts. Since they do not require resource-hungry mining, their implementation cost is like that of any distributed system.
Blockchain for business—use cases
Blockchain technology, and specifically Hyperledger Fabric, can be applied to solve real business problems across a variety of industries. Of course, this list is not exhaustive, as new use cases appear all the time.
Manufacturing—tracking manufactured parts to meet quality and safety requirements.
Logistics—tracking goods in real time, harnessing the power of distributed ledger technology: traceability and immutability.
Healthcare—ensuring the security of patients' records with a private blockchain technology connecting doctors, hospitals, and medical service providers.
Pharmaceutical industry—creating the system to track and trace prescription drugs.
Insurance—ensuring regulatory reporting for insurers and regulators.
Mining—ensuring traceability of conflict minerals.
Retail—bringing transparency and traceability to the food supply chain.
Real estate—building a tamperproof, blockchain-based system to store data from the land registry.
Identity management—designing and building a secure, decentralized personal ID system.
It is a permissioned blockchain where all network participants are vetted.
As it is easy to identify who is behind a given transaction, the risk of injecting malicious code through a smart contract is lower.
Smart contracts ("chaincode") ensure that all transactions recorded to the blockchain are confidential.
A private data feature allows you to share your data only with a selected set of network participants.
Thanks to the parallel execution of smart contracts, the overall performance of the system is higher.
There is no need for costly cryptocurrency mining.
The architecture modules (consensus protocols, ledger, identity management protocols, key management protocols, and cryptographic libraries) can be easily customized.
You will not be dependent on niche technologies, and smart contracts can be written using general-purpose languages such as Java, Go, and NodeJS instead of domain-specific languages.
If you want to check if blockchain development is something for you, we are eager to help. When providing blockchain consulting services, we:
gather and analyze business requirements,
perform a feasibility study,
advise on the best technical approach,
prepare a project plan with time and budget estimates,
build a functional blockchain Proof of Concept (PoC),
verify if the PoC is viable from the business point of view.
If you have an idea for a blockchain app and are looking for a partner to bring it to life, we can help you. As part of our blockchain developments services, we:
analyze business requirements,
advise on the best technical approach,
prepare the solution's architecture,
plan the project with time and budget estimates,
design and build the solution,
train end users,
hand over documentation,
provide maintenance and further development.
We provide an end-to-end service ensuring your costs are optimized and all risks are covered.
Choose the service model that is best for you (team augmentation, dedicated team, UX consulting, digital product development).
Build a clickable UX prototype in just 1 day to verify your business strategy.
Pay for product or functionalities delivered (in the Agile model) or actual hours spent on the project (for UX consulting services).
Get advice on team composition, size, and seniority level, solution architecture, and project backlog.
Cover all risks: underperformance, absences, security, confidentiality, and GDPR requirements.
Ensure all sensitive data is processed securely.
Ensure the best working conditions for your team: project onboarding, upskilling, best practices, and boosting motivation and engagement.
Work with a partner that ensures high quality and performance of the project team.
We offer different service models to match your business requirements.
A dedicated team managed by Fabrity
Build a cross-functional team with all roles and skills covered.
Benefit from our tools, processes, best practices, and infrastructure.
Use a quoted time and materials (QT&M) model based on the volume of software delivered.
A team managed by the client
Scale up your project team with our IT experts according to your current needs.
We make sure your developers have everything to start working immediately (hardware, software licenses, ensured security, and GDPR requirements).
Use a time and materials contract (T&M) with contracted flexibility.
Mix our experts with your team to strengthen it with the skills you need.
Benefit from our software development best practices and processes.
Use either a quoted time and materials (QT&M) or time and materials (T&M) model depending on how leadership roles are split between your team and our experts.
Software development hubs
Set up your virtual software development hub quickly.
Access the tech talent pool available in the CEE region.
Scale up and down without incurring upfront costs.
You can also send us an email
.
In this case the controller of the personal data will be FABRITY sp. z o. o. and the data will be processed for the purpose of marketing Fabrity's products or services; the legal basis for processing is the controller's legitimate interest. Personal data will be processed according to our privacy policy.