Efficient human resource management is essential for any organization aiming to optimize its workforce management, provide employee benefits, and ensure regulatory compliance. However, traditional HR processes can often be time-consuming, sometimes arbitrary and prone to errors, especially when relying on HR professionals' discretion, paper-based documents and employee records, and legacy HR software. To overcome these challenges, organizations are exploring ways to digitize and streamline key HR processes to provide a seamless experience for both HR teams and employees throughout the entire employee life cycle.
Building HR apps with low-code solutions
HR departments handle numerous employee management and HR processes and tasks, which all fall under the umbrella of human capital management, such as performance management, talent management, improving employee engagement, benefits administration, absence management, applicant tracking, and managing HR data. While a lot of HR management relies on face-to-face contact, nowadays many HR processes can be successfully digitized and automated. However, because of the individualized nature of handling human resources well, an off-the-shelf human resource management system, free HR software, or a free mobile app may not fit the needs of every HR manager or HR department. An HR system should therefore be capable of being adapted to the company's needs, preferably with the cooperation of the HR department.
One effective approach to address these serious human resource challenges is by developing HR apps using low-code technology. Low-code offers a software development approach that empowers both professional developers and citizen developers to create HR apps with minimal manual coding. Unlike traditional coding environments, low-code platforms employ a visual, model-driven language with an intuitive drag-and-drop interface.
The implementation of low-code technology brings numerous advantages to HR software development, including:
Faster HR software delivery: Low-code platforms, such as Microsoft Power Platform or FastAPP, accelerate the development of HR management software by utilizing pre-built components, templates, connectors, and logic. This expedites the deployment of HR software solutions, reducing development effort.
Increased productivity in HR software development: Low-code platforms enable developers to concentrate on designing business logic and optimizing user experience, rather than grappling with intricate technical details and infrastructure.
Enhanced Accessibility for HR Software Development: Low-code platforms democratize HR application development by making it accessible to users without extensive technical proficiency, such as HR teams, who can construct or customize HR apps using low-code tools.
Improved collaboration: Low-code platforms foster robust collaboration between IT and HR teams by providing a unified visual language and built-in tools for feedback, revision tracking, user stories, messaging, and more.
Scalable HR software solutions: Low-code platforms offer scalability and support for continuous enhancement. Developers can swiftly deploy new HR apps or enhance existing HR software in response to evolving business requirements and changes in employee demands.
Be it a mobile app or a fully-fledged human resources information system, developing various HR apps and HR software through low-code technology empowers organizations to streamline human resource management, minimize costs, increase transparency, and improve employee satisfaction. Low-code technology integrated into HR software applications further facilitates an organization's ability to innovate swiftly, responding to ever-changing expectations.
Let us explore three real-life scenarios showcasing the utility of low-code technology in crafting effective HR applications.
Human resource application—One Learning a Day—empowering continuous growth
The One Learning a Day mobile app tackles employee self-service and development challenges by offering daily micro-learning sessions tailored to individual growth paths. Through bite-sized content, quizzes, and interactive experiences, this mobile app enhances employee engagement, knowledge, process awareness, self-service, and learning efficiency. By fostering a culture of self-service and continuous learning, it motivates employees to progress in their development journeys.
Tailored daily content aligns with employee development paths, providing short, relevant pieces of information via text, videos, or interactive formats. The mobile app reinforces learning with quizzes on daily content, identifying gaps in understanding. Accessible on both mobile devices and computers, this HR app facilitates employee engagement anytime and anywhere. The mobile app offers comprehensive insights into individual and departmental learning outcomes, facilitating real-time feedback and recognizing high performers.
Micro-learning boosts efficiency, delivering regular insights that keep employees engaged and motivated. Quizzes pinpoint knowledge gaps, allowing targeted interventions for development. Dashboard insights enable managers to monitor employee information, offer timely feedback, and identify development opportunities. This piece of human resources software is invaluable for talent management and development.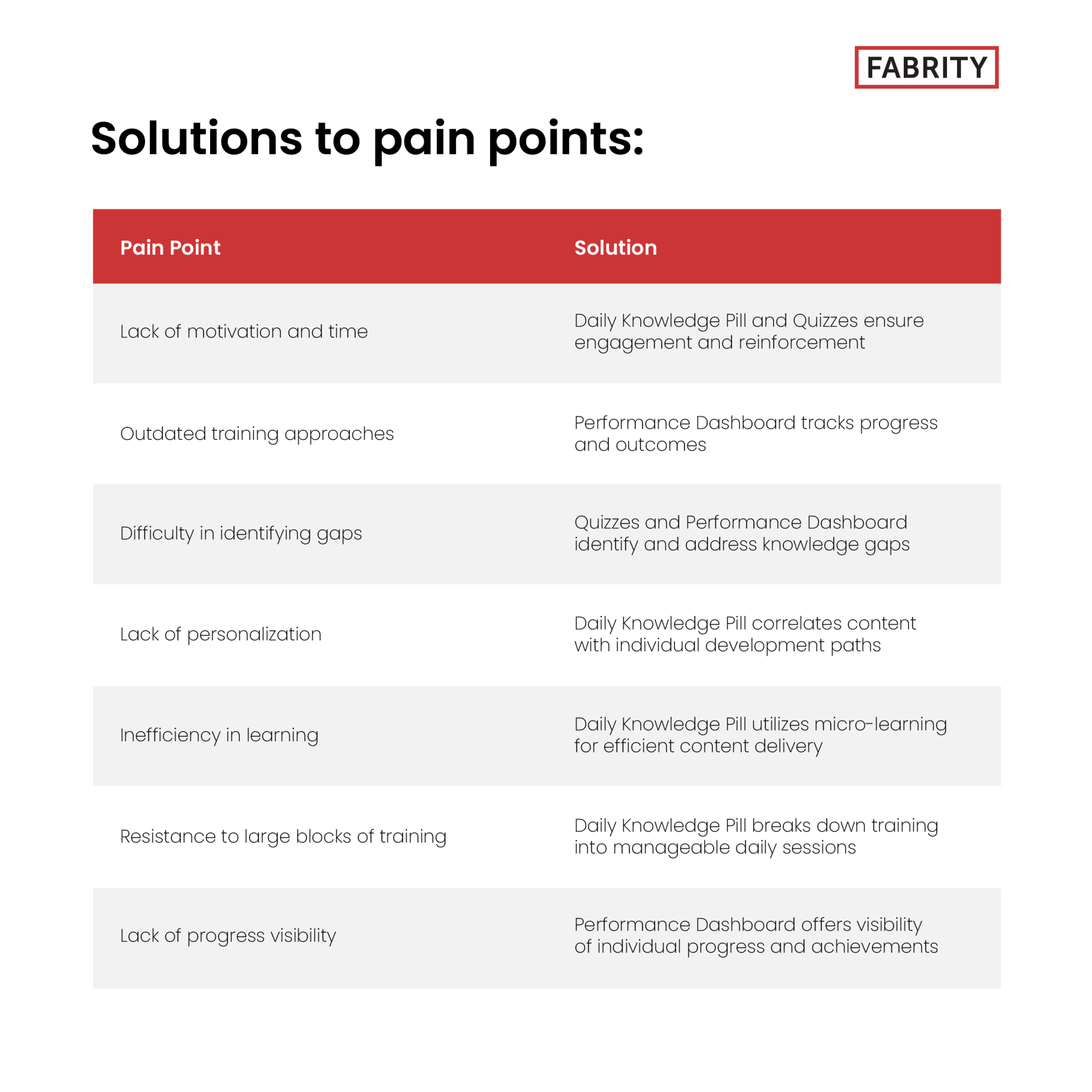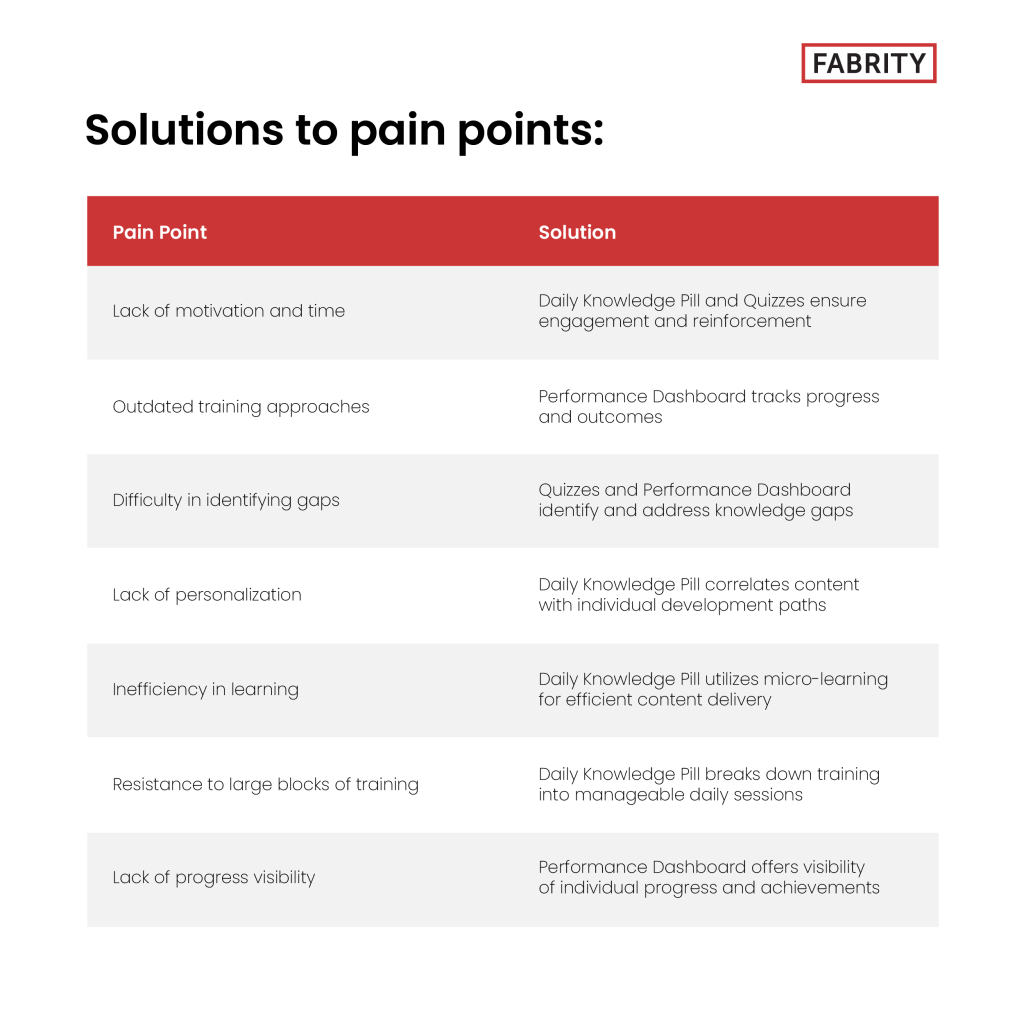 The One Learning a Day mobile app revolutionizes employee development by delivering tailored daily knowledge, engaging quizzes, and personalized experiences. Real-time insights from the performance management dashboard drive targeted support, foster continuous learning, increase employee engagement, and promote a culture of improvement. This innovative solution transforms challenges into opportunities for growth and advancement within the organization.
HR systems—Employee Development Paths Application—enhancing growth through KPIs and OKRs
The Employee Development Paths app is a robust tool designed to facilitate employee growth within an organization. By integrating key performance indicators (KPIs) and objectives and key results (OKRs), the app motivates employees, presents key features of their development journey clearly, and encourages continuous improvement.
The HR software offers a clear development path by visually outlining each employee's career progression, skill development, and growth opportunities. This roadmap fuels motivation as employees see that their efforts lead to tangible progress. Clear and aligned KPIs are defined for each employee, fostering accountability and ownership of performance, while long-term goals are segmented into achievable monthly OKRs, encouraging steady progress. Moreover, automatic prompts offer encouragement, skill-building suggestions, and resources to overcome challenges, while "quests" introduce ad hoc tasks, spurring creative growth opportunities.
This "gamification" HR software is designed to provide clear roadmaps, time tracking, progress checkpoints, and transparent evaluation criteria to inspire investment in growth. Monthly OKRs and quests foster a growth mindset and a culture of ongoing development. Quests also enable proactive responses to new development opportunities, enhancing employee self-service and experience. Visibility of the KPIs and OKRs helps employees identify areas for improvement, while adjusting plans and actions improves employee engagement.
The Employee Development Paths HR app, emphasizing KPIs, OKRs, and quests, empowers employees with a clear journey, continuous motivation, and a learning culture. The result is a motivated, engaged workforce committed to personal and professional growth, driving organizational success.
Human resource apps—gamification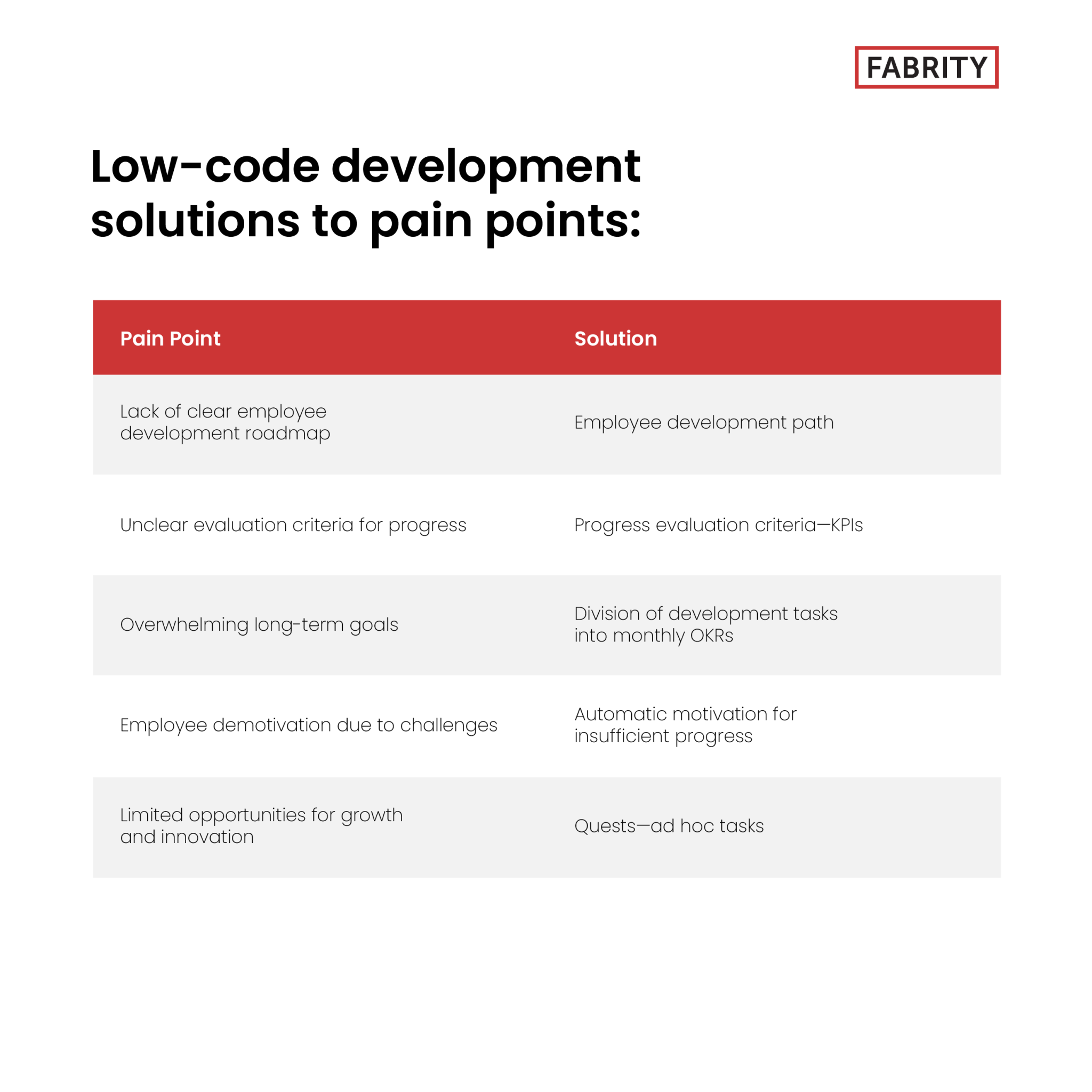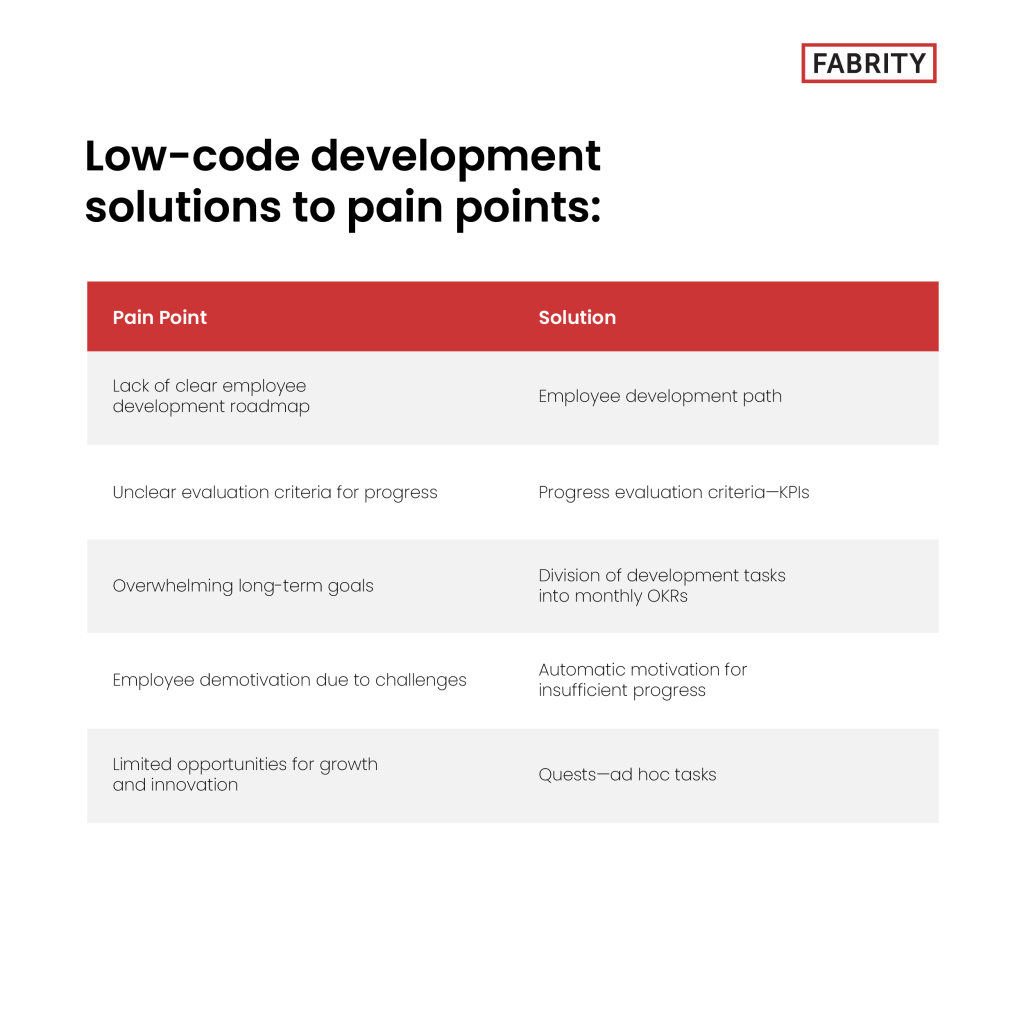 Low-code HR software—streamlining processes and onboarding
In the dynamic realm of business, efficient HR processes and seamless onboarding are paramount for attracting and retaining top talent. A versatile and user-friendly low-code development solution addresses pain points in the HR department: communication, documentation, and employee onboarding.
HR app for employee incident reporting and insurance claims
Managing employee incident reporting and insurance claims poses challenges for large organizations due to communication gaps and complex procedures. A low-code solution introduces an integrated panel for submitting HR requests that automatically generates tickets for HR teams. Employees can use the platform to complete standardized incident forms, attach relevant documents, and receive real-time updates. This streamlines HR communication, ensuring adherence to procedures, and results in:
clear understanding of the process and status after submitting reports;
efficient communication leading to quicker resolutions;
an enhanced overall HR experience through monitoring and procedure compliance.
HR apps—streamlining document approval workflows
Organizations face difficulties managing various document types and approval workflows in their legal departments. A low-code solution can introduce a system for document approval requests based on document types. The platform assigns dedicated workflows, following established procedures and ensuring efficient queueing and allocation of employee documents, providing for:
precise control over approval process steps and timing;
improved efficiency in legal document processing and workflow adherence;
enhanced visibility and accountability in the legal department's front-facing functions.


HR apps—efficient onboarding
Improper onboarding leads to chaos and high turnover in large organizations with complex processes. A low-code HR app offers a comprehensive onboarding module catering to specialized roles. It simplifies complex processes and benefits enrollment, ensuring seamless and engaging onboarding for new hires. Outcomes include:
a tailored onboarding process for specific roles and responsibilities;
an automated onboarding system reducing HR workload;
improved talent retention and decreased turnover rates.
Three human resources apps—conclusion
Low-code HR tools are a game-changer for all HR tasks, processes, and onboarding, catering to various scenarios and industries. Their versatile features foster efficient communication, streamline workflows, eliminate manual tasks, and enhance HR operations, allowing organizations to create a positive work environment, retain top talent, improve employee attendance, and pave the way for long-term success.
From employee data management to employee feedback—low-code HR software
As is demonstrated by these three examples, low-code technology can be a game-changer for HR software development. It enables organizations to create the best HR software solutions faster and more efficiently than ever before. With low-code platforms, HR teams can focus on delivering value to their organizations and employees rather than spending time on tedious coding tasks.