SUPPORTING YOUR DIGITAL TRANSFORMATION JOURNEY
Scale up from simple team augmentation to fully organized project teams and complex software development hubs  
Build project teams with wide range of skillsets and competences.
We provide project teams with extensive skillset to cover all the needs of your project. With Fabrity, you can simply augment your IT staff to meet growing demands of your business or build a fully-blown team for a complex project. Either way, we are always eager to help.
Choose from variety of popular or niche technologies or platforms.
Based on the great talent pool we compose balanced project teams in terms of commercial experience, competence profile, technical skills and soft skills.
Build fully outsourced or hybrid software hub project teams with wide range of specialized services. Benefit from top-notch permanent project personnel from software house.
Product and service design
Digital product design based on world-leading methods and tools. The holistic approach to product design from ideation, through functional design, UI and users testing.
Bespoke enterprise software solutions that follow the newest technology and design standards. Software engineering excellence with processes, tools and sharpened practices.
Client-centric and structured design process. Beautiful consumer digital products and innovative enterprise-level web or mobile apps, created with technology stack of your choice.
Data Management solutions that automate data collection and processing. We build data science solutions and AI-enabled software to help you make business decisions based on data.
Securing business continuity with reliably managed services across business applications, platforms, infrastructure and cloud. End-to-end, flexible and efficient.
Turn your data into knowledge harnessing the newest technologies such as machine learning, data mining, cognitive analysis, and AI. Our experts will set up advanced analytics tools to deliver the best reports helping to understand the knowledge behind your data.
Why to work with Fabrity?
Fabrity is a software house that provide software development services and complex IT solutions, partnering enterprise and most innovative companies in their digital transformation journey. We are not a recruitment company.
We can propose fully-organized, competent and balanced project teams available at the same time. You don't need to recruit person by person and build a team on your own.
Project teams in 2-4 weeks
We can build project teams in 2-4 weeks from the request till effective start (provided there are no niche requirements).
We will secure your risks
We will secure your risks in regards to team onboarding, effective work organization, team performance, absence management or scalability.
We can provide a lot of added value if needed, in regards to software development processes and practices, tools, environments or cloud tenants, devices, etc.
Truly effective hybrid teams
You can choose a'la carte from project roles on our side and build truly effective hybrid teams.
Responsibility for the performance
We will take responsibility for the team performance—the remuneration is based on team Sprints or a volume of software delivered and expressed in "story points" (Quoted Time & Means model).
You will gain a significant cost advantage compared to your local partners, but most of all, best-in-class quality.
We keep our teams motivated by providing many paths for professional growth, including the Fabrity Academy program and the Fabrity Labs coding days.
At Fabrity we organize tailored and scalable software hubs for most demanding and innovative companies. When you suffer from significant lack of quality IT personnel, you may choose a strategy to make use the potential of IT engineers from CEE region. This approach brings big potential to grow and benefits from great talent pool. However, when you choose to setup a new legal entity and on-site branch to lunch a software hub, it brings a big investment, time consumption, requires expensive advisory and puts a lot of risk on the table.
With Fabrity you will setup your own virtual software hub in weeks. You benefit from:
Short timeframe, setup of first project teams in ~4 weeks.
High scalability with a trusted partner.
Access to a volume talent pool, top-notch, experienced, engineers and designers.
Low risk, no initial investment needed – you pay only for accepted work delivered
Everything's up and running
IT infrastructure and devices, office space, practices and tools, compliance, security, team management, contracts management.
Remarkable cost advantage
We offer different cooperation models to allow you to choose the scenario that is precisely tailored to your needs.
Give the entire responsibility for the project delivery to Fabrity. We will build a cross-functional team with all roles and competences covered. Plug and play with tools, processes, and practices or infrastructure required for development, QA and staging. Use quoted Time & Means model based on performance or volume of software delivered.
Build a hybrid team with different project roles covered by Fabrity and your employees. Scale up your project team and establish seamless knowledge transfer in both directions. Benefit from selected software development practices and processes or be flexible when scaling infrastructure. Use either quoted Time & Means or Time & Means model, depending on a split leadership roles between two sides.
Scale up your project teams with top-notch IT engineers from Fabrity. Be flexible when scaling up and down according to your current project needs. Benefit from the all-inclusive model with devices and licenses for each developer, secured compliance, network security and GDPR. Use Time & Means model with contracted flexibility.
When building software development hubs, we deliver a lot of added value, having an up and running complete framework that requires no investments from you to start.
During the years we have mastered the process of building software development teams. Our clients benefit from precise matching of technical and soft skills with requirements, high team performance and proper motivation of our inhouse project personnel.
Let our Account Manager, supported by CTO or technical leads, understands your specific requirements, i.e. technical skills, project context, proper balancing of qualities of team members.
Let our CTO, supported by sourcing mangers, compose an optimal team setup that matches your specific requirements, having a selection of in-house and new recruited engineers.
Let our technical team leaders and HR Business Partners make sure that the assumed team members optimally fit your requirements when it comes to technical and soft skills.
You receive a complete documentation for each team member in a clear, standardized format. You can review the documentation and setup an individual or group interview as agreed.
Once a team is approved, you can review and sign a framework contract, which is based on the "open book" approach, secures compliance and major risks on your side.
Best-in-class software development teams, holding you by a hand in the digital transformation journey. Beautiful and client-centric design, combined with top-notch software engineering.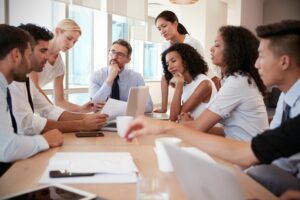 How to hire a software development team? What aspects should you take into consideration? Read our article to find the answers to these questions.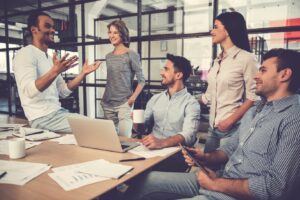 When looking for a nearshoring partner, you should look beyond programming skills. Read on to know what added values you can expect.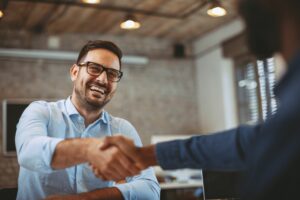 In the case of a software development team's underperformance, a typical time and materials contracts may not be enough. Find out about the alternative.
Frequently Asked Questions
You can choose a'la carte from different cooperation models, choose and mix roles to build truly effective SCRUM teams according to your needs.
In porta, justo et malesuada vulputate, mauris eros tristique ante, ut volutpat tellus quam quis felis. Aenean non faucibus dui, nec rutrum ex. Pellentesque pretium neque massa. Phasellus vehicula mi quis arcu ornare bibendum.
In hac habitasse platea dictumst. Fusce quis ante lectus. Nullam gravida, arcu sed venenatis lacinia, nunc felis mollis libero, porttitor laoreet nisi elit eget sem. Proin neque tortor, maximus id finibus at, aliquet in dolor. Sed vehicula efficitur egestas. Donec lacus odio, tempus eget tempus in, consequat vel nunc. Nulla fermentum magna tincidunt, rutrum erat vitae, sollicitudin sapien. Duis rutrum augue vitae lacus luctus, quis tempus justo aliquet. Vivamus ultricies nulla quis tempor rutrum. Aenean condimentum orci sed lacus fringilla, eget pulvinar nisl sodales.
In porta, justo et malesuada vulputate, mauris eros tristique ante, ut volutpat tellus quam quis felis. Aenean non faucibus dui, nec rutrum ex. Pellentesque pretium neque massa. Phasellus vehicula mi quis arcu ornare bibendum. Praesent at purus eu ex lobortis placerat nec id neque. Donec mollis aliquet nisi, eu pharetra ante porttitor vitae. Aliquam tempus nulla ac libero finibus, sed congue quam molestie. Curabitur iaculis rutrum dui eget tincidunt. Nullam luctus metus vel erat gravida efficitur. Nunc pretium tempus purus, eget cursus sem placerat quis. Nullam mi dui, vulputate dignissim vulputate nec, congue ac tortor. Nunc ac molestie mi. Maecenas aliquet purus in orci elementum lobortis. Nam ultrices est ante, at euismod ipsum feugiat et. Nam ut ante et ligula sodales semper. Morbi consequat condimentum nulla nec suscipit.